PCI Express UltraScale+ FPGA Carrier Board
with FMC+ Site, x16 PCIe Gen 4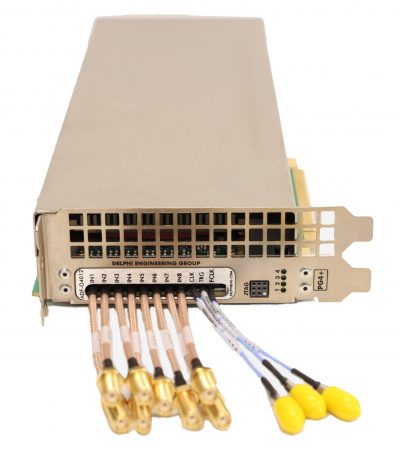 Industry Leading PCIe Gen 4 x16
FPGA Carrier
Enables High-speed Data Recording of up to 25GB/s 
Compatible with VITA 57.4 FMC+ Modules
x16 Lanes of PCIe Gen 4
UltraScale+: VU37P or VU47P FPGA
Please fill out form below to download datasheet.
*

INDICATES REQUIRED FIELD
Enables High-Performance Signal Processing & Data Recording Solutions
The PG4+ continues DEG's commitment to delivering high performance processing solutions for mission critical applications requiring the latest in AMD UltraScale+ FPGA computing power. The PG4+ is a PCI Express, standard form factor, FPGA processor board designed to meet the needs of challenging, embedded high-performance digital signal processing applications. The AMD UltraScale+ VU37P or VU47P delivers superior processing capabilities and supports operations such as: FFTs, FIR filters, fixed-point and repetitive processing tasks. The PG4+ FPGA node processes input from the FMC HPC + (Vita 57.4) site, allowing for maximum application configurability and performance when coupled with DEG's market leading ADC and DAC FMC modules that operate up to 12 GSPS.
Delphi also offers a PG4+ FPGA Design kit which allows customers to leverage and modify DEG source code, develop within an open architecture, and rapidly integrate FPGA HDL with DEG's DSP functions and resources. The DEG FPGA Design kit include: Source code, simulation test bench and utilities to support custom algorithm development. Linux and Windows software drivers are available.