PCIExpress Kintex UltraScale FPGA Carrier Board
Experts in Digital Signal Processing & Data Acquisition Products Since 1994. Offering Consultative Engineering Services, Rapid Prototyping, and Custom Electronic Design.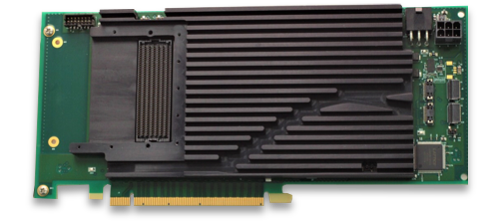 Powerful FMC/FMC+ FPGA Carrier
Enables High-speed Data Recording
Compatible with All VITA 57.1 and VITA 57.4 FMC Modules
x16 Lanes of PCIe Gen 3
Kintex UltraScale: XCKU085 or 115 Options
Samtec FireFly
Please fill out form below to download datasheet.
*

INDICATES REQUIRED FIELD
High Performance Processing Solutions for Mission Critical Applications
The PCU continues DEG's commitment to delivering high performance processing solutions for mission critical applications requiring the latest in Xilinx Kintex UltraScale FPGA computing power. The PCU is a PCIExpress, standard form factor , FPGA processor board designed to meet the needs of challenging, embedded high-performance digital signal processing applications at a competitive price point. Xilinx Kintex UltraScale XCKU085/115 delivers impressive processing capabilities and supports operations such as: FFTs, FIR filters, fixed-point and repetitive processing tasks. The PCU FPGA node processes input from the FMC HPC +(Vita 57.4) site, allowing for maximum application configurability and performance when coupled with DEG's market leading ADC and DAC FMC modules (250MSPS to 4.0GSPS).
In addition to the PCU's powerful FPGA processing capability, the incorporation of the Samtec FireFly enables board-to-board, on-board, and system-to-system connectivity at data rates up to 16.3 Gbps. Copper or optical interconnects available. Compatible with QSFP+.