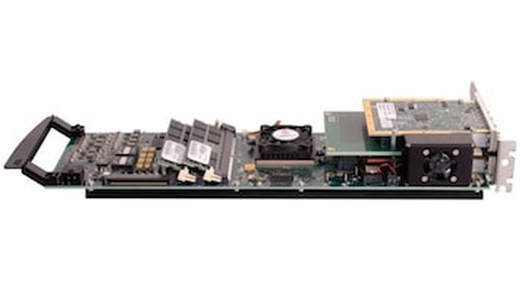 Versatile and Powerful - PCIe Virtex-7 FPGA Dual FMC Carrier - Two HPC FMC sites with rear panel I/O
Supports 2 HPC FMC cards with Rear I/O
Virtex-7 VX330T or VX690T FPGAs
Up to 9 GB of DDR3 SDRAM
PCI-Express Gen3 Interface
FPGA Design Kit and Visualization Software Available
Please fill out form below to download datasheet.
*

INDICATES REQUIRED FIELD
Performance & Versatility



The PC7 family of FPGA carrier boards is DEG's latest AMD-based product innovation. With the ability to host two FMCs (FPGA Mezzanine Cards) with rear panel I/O, the PC7 product line sets the benchmark for performance and versatility in the embedded PCIe market. Coupling this flexibility with a AMD Virtex-7 VX330T or VX690T FPGA, the PC7 enables multi-channel high-speed data acquisition and extensive digital signal processing all within a single PCIe slot.
DEG also offers a PC7 FPGA Design kit which allows customers to leverage and modify DEG source code, develop within an open architecture, and rapidly integrate FPGA HDL with DEG's DSP functions and resources. The DEG FPGA Design kit includes PC7: Source code, simulation test bench and utilities to support custom algorithm development. Embedded Linux software drivers are available.