Quad 12.0 Gsps 16-bit DAC FMC+ Module
Experts in Digital Signal Processing & Data Acquisition Products Since 1994. Offering Consultative Engineering Services, Rapid Prototyping, and Custom Electronic Design.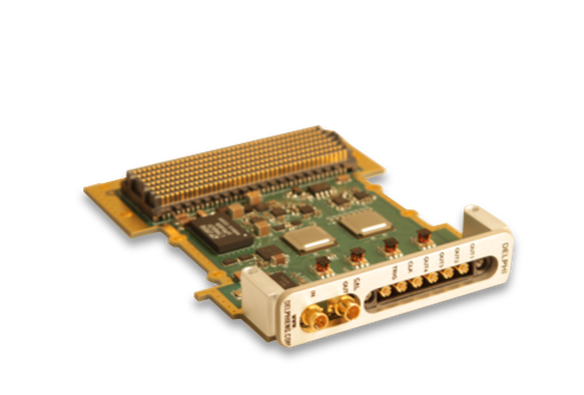 16-Bit Quad-Channel DAC Module
Quad Channel DAC on a Single FMC+ Module
Wide Dynamic Range
Convection and Conduction-Cooled Versions
Enables SWaP-C Sensitive Systems: High Density, Small Footprint, Low Power
Analog Devices part: AD9174
Please fill out form below to download datasheet.
*

INDICATES REQUIRED FIELD
The DAC-Q30 FMC+ module from DEG is a high sample rate, 16 bit quad channel DAC module. The Analog Devices AD9174 DAC device operates at 3.0 Gsps natively and up to 12.0 Gsps in interpolation mode. A VITA 57.4-compliant FPGA Mezzanine Card (FMC+) interface, the DAC-Q30 offers industry wide platform compatibility with the PCIe/VME/VXS/VPX carrier board of your choice. The DAC-Q30 and associated HDL firmware are compatible with Xilinx® FPGAs.
The DAC-Q30 incorporates the JESD204B SERDES Interface standard. The DAC-Q30 utilizes 16 JESD204B lanes from the carrier board FPGA. Sustained data transfer rates of up to 15.0 Gbytes/sec. are supported.
Features
Quad Channel 3.0 Gsps 16-bit DAC : 12 GHz in Interpolation Mode
JESD204B SERDES Interface: x 16 Lanes DAC @ 15.0 Gbs per Lane
Built-in Clock Jitter Cleaner
Multiple Configurable Data Channel Interpolation Options 
Flexible & Cost-Effective
Solution
By coupling this core architecture with the compact and flexible VITA 57.4 form factor, DEG has enabled customers to rapidly and cost-effectively build compact systems with significant SWaP-C benefits. By packing four high-performance DAC channels on a single FMC+ module, DEG is enabling a new generation of radar, jammer and high-performance communication applications.