Quad 12 Gsps 16-bit DAC
& Quad 4 Gsps 12-bit ADC
Experts in Digital Signal Processing & Data Acquisition Products Since 1994. Offering Consultative Engineering Services, Rapid Prototyping, and Custom Electronic Design.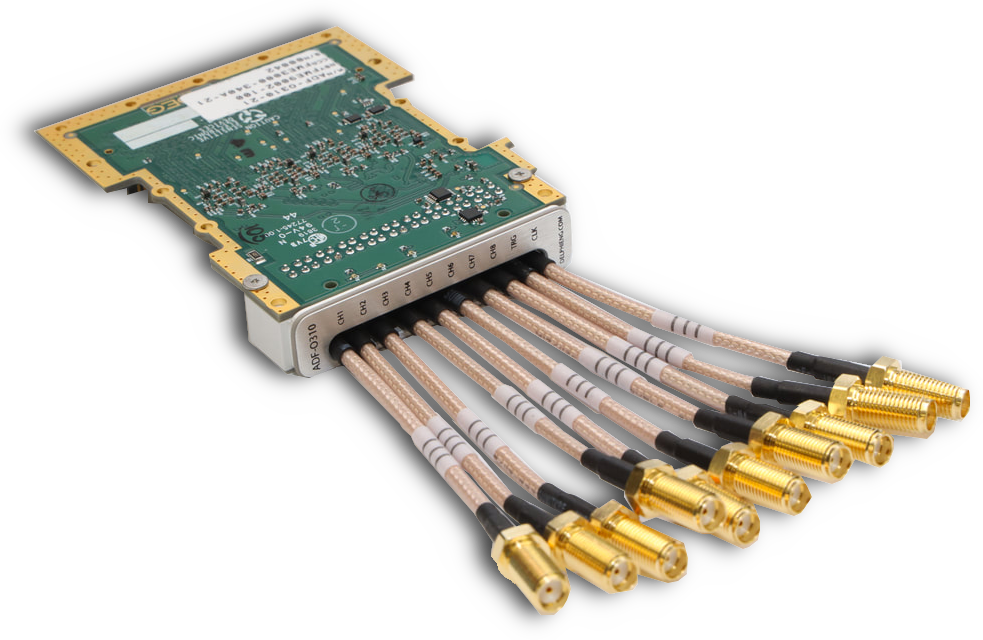 JESD204C / JESD204B Interface
VITA 57.1 FMC
Wide Dynamic Range
High Channel Density
Ideal for SWaP-C Sensitive Application
Designed for Xilinx UltraScale and UltraScale+ FPGA Carrier Boards
Built-in Clock Jitter Cleaner 
Configurable digital up/down conversion (DDC/DUC)
Analog Device part: AD9081
Please fill out form below to download datasheet.
*

INDICATES REQUIRED FIELD
The DEG ADF-QMX44 FMC leverages the Analog Devices AD9081 MxFE (Mixed Signal Front End) transceiver technology. This highly integrated device includes a quad 16-bit, 12 Gsps sample rate radio frequency (RF) digital-to-analog converter (DAC) and a quad 12-bit, 4 Gsps rate RF analog-to-digital converter (ADC). The ADF-QMx44 features an 8-lane, 24.75 Gbps JESD204C transceiver port, an on-chip clock multiplier, digital signal processing capability and supports four transmitter channels and four receiver channels.
The  ADF-QMX44 is a VITA 57.1-2019 compliant FPGA Mezzanine Card (FMC) that offers industry-wide platform compatibility with Xilinx UltraScale and UltraScale+ FPGA carrier boards, including DEG's performance-leading, PCI Express and 3U Open VPX carrier products. 
Implementation and control of the ADF-QMX44 is accomplished with Delphi's ADCLink. The capabilities of ADCLink include clock phase adjustment, onboard/external reference clock control, trigger input, thresholds and ADC and DAC mode control.
Flexible & Cost-Effective Solution
By coupling this core architecture with the compact and flexible FMC form factor, DEG has enabled customers to rapidly and cost-effectively build compact and rugged systems of high-speed digitization on a single high-performance FPGA carrier board. The front panel of the ADF-QMx44 provides ten coaxial connections that serve as inputs for a trigger and clock, four analog inputs and four analog outputs.