Quad 3.1 Gsps, 14-bit ADC FMC+
Experts in Digital Signal Processing & Data Acquisition Products Since 1994. Offering Consultative Engineering Services, Rapid Prototyping, and Custom Electronic Design.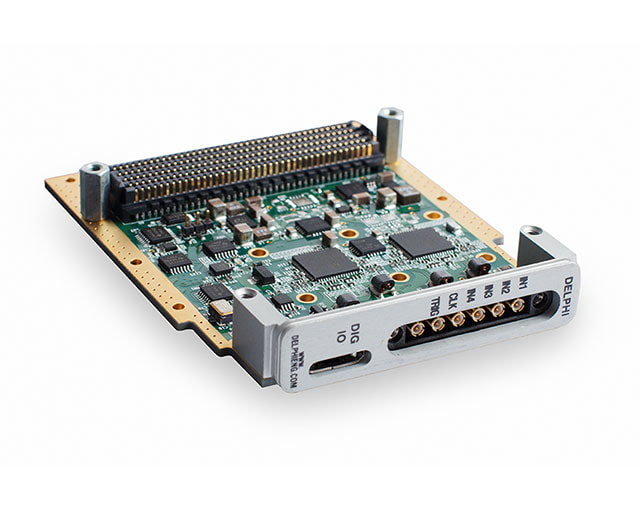 JESD204B Interface: x16 Lanes
Quad channel 3.1 Gsps 14-bit ADC
JESD204B SERDES Interface: x16 Lanes
Designed for VITA 57.4 compliant FMC + Carrier Boards: Kintex UltraScale & Virtex 7 FPGAs
Four internal digital down-converters per channel
Analog Devices part: AD9208
Please fill out form below to download datasheet.
*

INDICATES REQUIRED FIELD
Unparalleled Analog-to-Digital Conversion
The ADF-Q3114 is a VITA 57.4 compliant FPGA Mezzanine Card (FMC+) that converts four channels of up to 3.1 GHz analog input bandwidth. This digitizer provides unparalleled analog-to-digital conversion capability with the PCIe/VME/ VXS/VPX carrier board of your choice. The ADF-Q3114 is designed to be compatible with Xilinx® FPGA platforms.
Dynamic Range & Greater ENOB & Wideband Sampling Performance
The ADF-Q3114 ADC FMC module from DEG delivers four channels, each with 14 bits of resolution at a sample rate of 3.1 Gsps. Utilizing the latest in Analog Devices high-speed ADC technology, the ADF-Q3114 enables defense applications requiring higher dynamic range, greater ENOB and wideband sampling performance.