Quad 1.25 Gsps 14-bit ADC FMC
Experts in Digital Signal Processing & Data Acquisition Products Since 1994. Offering Consultative Engineering Services, Rapid Prototyping, and Custom Electronic Design.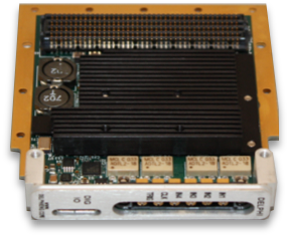 Quad channel 1.25 Gsps, 14-bit ADC
JESD204B SERDES Interface: x 8 Lanes
Works with carrier board of your choice
VITA 57 compliant FMC works with Altera and Xilinx FPGAs
Available in 1.25Gsps, 1.0 Gsps, and 500 Msps
Analog Devices part: AD9680
Please fill out form below to download datasheet.
*

INDICATES REQUIRED FIELD
Unparalleled Analog-to-Digital Conversion
The ADF-Q1214 Quad Channel ADC FMC module from DEG delivers 14 Bit resolution at a sample rate of 1.25 Gsps . As a VITA 57 compliant FPGA Mezzanine Card (FMC), the ADF-Q1214 converts four channels of up to 2.0 GHz analog input bandwidth providing direct coupling of unparalleled analog-to-digital conversion capability with the PCIe/VME/VXS/VPX carrier board of your choice.