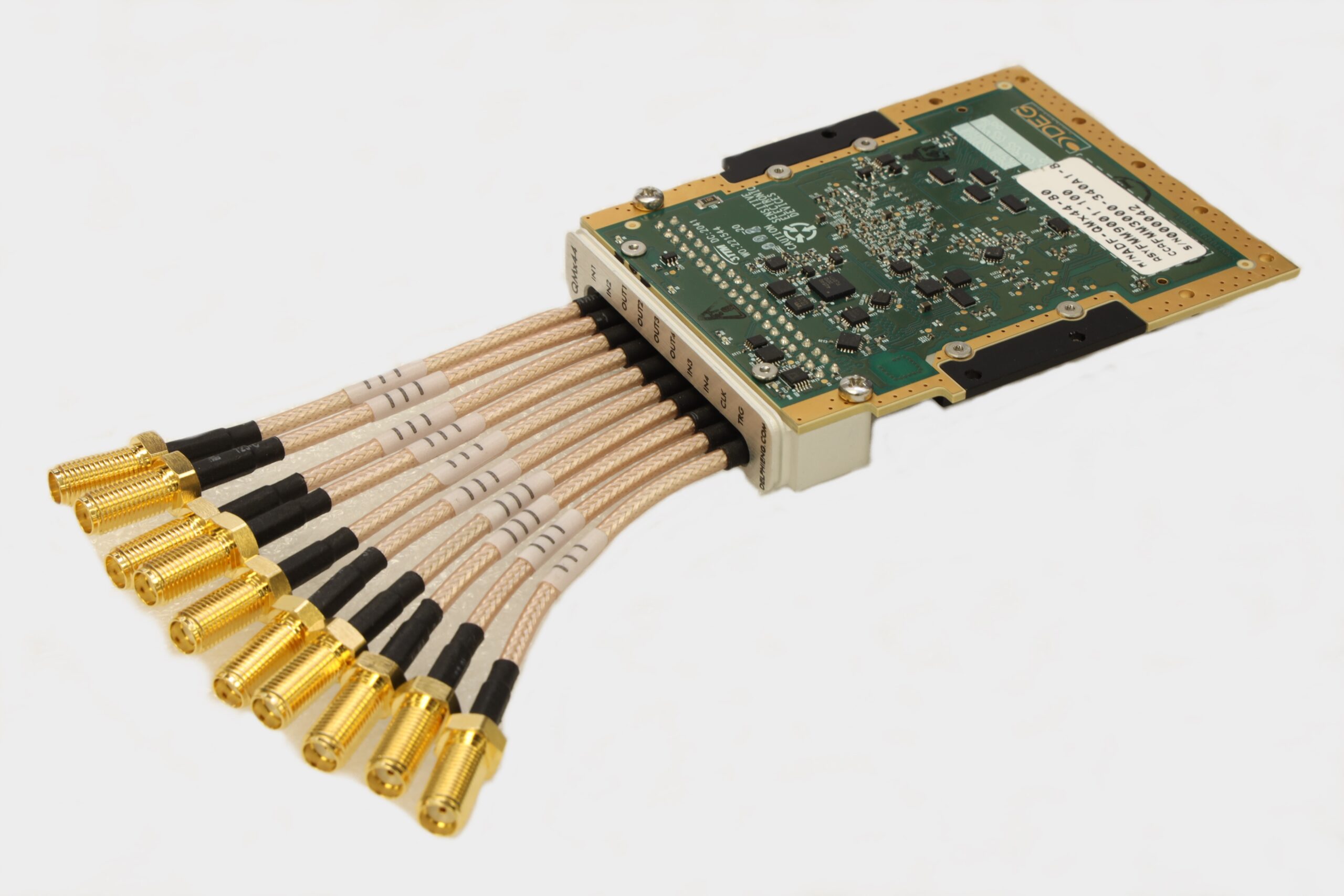 JESD204C / JESD204B Interface
VITA 57.4 FMC+
Wide Dynamic Range
High Channel Density
Ideal for SWaP-C Sensitive Application
Designed for AMD UltraScale and UltraScale+ FPGA Carrier Boards
Multi-Board Channel Alignment Capability
Built-in Clock Jitter Cleaner 
Configurable digital down conversion (DDC)
Analog Device part: AD9209
Please fill out form below to download datasheet.
*

INDICATES REQUIRED FIELD
The DEG ADF-O4012 FMC  includes eight 12-bit, 4 Gsps RF analog-to-digital converters (ADC). The ADF-O4012 features a 16-lane, 24.75 Gbps JESD204C interface, flexible clocking and triggering options. This ADF-O4012 leverages two Analog Devices AD9209 MxFE (Mixed Signal Front End) ICs, elevating the technology to a new level of integration.
The AD9209 also has an on-chip clock multiplier, and a digital signal processing (DSP) capability targeted at either wideband or multiband direct from RF applications. The DSP data paths can also be bypassed to allow a direct connection between the converter cores and the JESD204B/C interface.
Flexible & Cost-Effective Solution
By coupling this core architecture with the compact and flexible FMC form factor, DEG has enabled customers to rapidly and cost-effectively build compact and rugged systems of high-speed digitization on a single high-performance FPGA carrier board.
The front panel of the ADF-O4012 provides eleven SMA coaxial connections for the eight analog inputs, an external trigger, an  external clock or reference, and one signal for board to board channel alignment.