Dual 2.0 Gsps. 12 Bit ADC FMC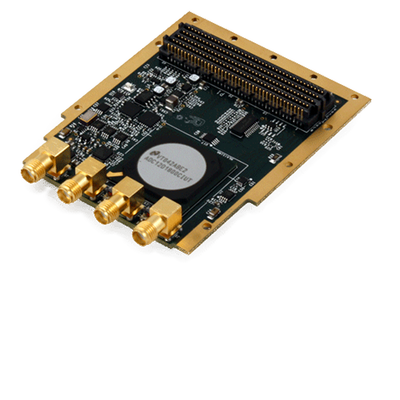 Highest Resolution 2GHz ADC FMC Product on the Market
DUAL 1.0, 1.6, 1.8, or 2.0 Gsps sampling rate at 12-bit  
Single channel mode up to 4.0 Gsps
12-bit ADC (Interleaved Up to 2.8GHz Input Bandwidth
FMC/VITA 57 form factor
Works with AMD and Altera FPGAs
Air & Conduction-Cooled
Please fill out form below to download datasheet.
*

INDICATES REQUIRED FIELD
Two Channels + Interleaved Mode
This FPGA Mezzanine Card (FMC) converts two channels of up to 2.8GHz analog input bandwidth at 1.0, 1.6, 1.8, or 2.0 Gsps and 12-bit resolution. Additionally, this FMC can be used in an interleaved mode to convert a single channel at 2.0, 3.2, 3.6, or 4.0 Gsps and 12-bit resolution. Based on the VITA 57 specification, the ADF-D1600 enables direct coupling of unparalleled analog-digital conversion capability with the VME/VXS/AMC/VPX/PCI-E carrier board of your choice. DEG engineers have designed this product and associated HDL firmware to work with both Altera and AMD FPGAs.
The ADF-D2000 leapfrogs Delphi Engineerings' (DEG) previous Analog-Digital converter products that were based on National Semiconductor ADC's. DEG engineers designed this product to support the ADC12D1000, ADC12D1600, ADC12D1800 and the ADC12D2000RF devices enabling customers to select their sample rate optimized for their application and obtain the best dynamic performance. The ADF-D1600 provides the highest conversion resolution for sample rates above 1Gsps.