Digital Receiver - Virtex 7
Experts in Digital Signal Processing & Data Acquisition Products Since 1994. Offering Consultative Engineering Services, Rapid Prototyping, and Custom Electronic Design.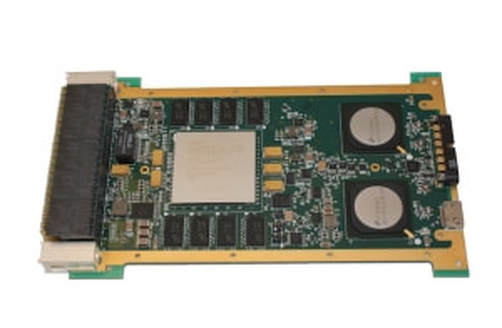 High-Performance 3U VPX Virtex-7 FPGA Digital Receiver: Quad-channel 2 Gsps ADCs or Dual-channel 4 Gsps ADC (@12-bit)
Virtex-7 VX330T and VX690T
Ideal for SWaP-C Applications
2 GB of DDR3 SDRAM
4 Fat Pipes (x4) at PCIe Gen3 rates
FPGA Design Kit and Software Drivers Available
Please fill out form below to download datasheet.
*

INDICATES REQUIRED FIELD
High Performance Data Acquisition & FPGA Computing Power
With support for up to four channels at 2.0 Gsps and 12-bit resolution, the VP7 board enables system designers to fully utilize the power of the Xilinx Virtex 7 FPGA  and reduce footprint for multi-channel sensor systems. Optimized to support Texas Instruments ADC12D1000, ADC12D1600, ADC12D1800, and ADC12D2000 devices, the VP7 board enables you to select the sample rate ideal for your application and obtain the best dynamic performance available.
Today's Department of Defense (DoD) has a sharp focus on reducing embedded systems size, weight, power, and cost (SWaP-C) across virtually all military and aerospace applications. Now more than ever, SWaP-C technologies such as 3U VPX, demonstrate significant and measureable improvements in areas such as: sensor signal processing, increased mission life, and reduced total cost of system ownership (TCO). The performance, reliability, and modularity of the 3U VPX form factor has contributed to its emergence as the board of choice for new sensor systems and program refresh efforts.
In an era of DoD reduced budgets, size, weight and power reductions in electronics systems are simply not enough. The "C" for cost will need to be every bit as compelling as the technical advantages of moving to a 3U VPX system architecture. To meet this challenge, Delphi Engineering Group, Inc. (DEG) has developed a family of powerful digital receiver products that meet and exceed the DOD's SWaP-C initiatives.