Dual 2.5Gsps, 14-bit DAC FMC
Experts in Digital Signal Processing & Data Acquisition Products Since 1994. Offering Consultative Engineering Services, Rapid Prototyping, and Custom Electronic Design.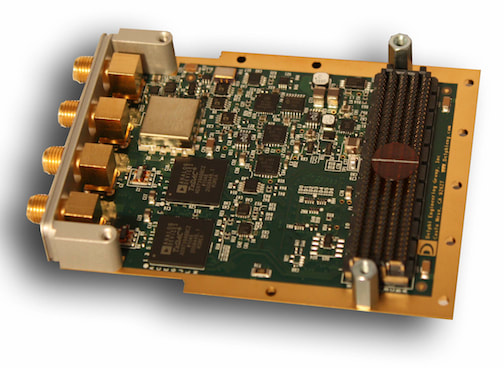 DAC-D2500 Dual 2.5Gsps, 14-bit DAC
Dual DACs – 2.5Gsps sampling rate at 14-bit
2.3GHz Output Bandwidth
Works with Xilinx and Altera FPGAs
Air & Conduction-Cooled
Analog Devices part: AD9739A
Please fill out form below to download datasheet.
*

INDICATES REQUIRED FIELD
DEG engineers leveraged design work and intellectual property from the highly successful FMC product line to bring the DAC-D2500 to market in record time. By coupling this core architecture with the compact and flexible FMC form factor, DEG has enabled customers to rapidly and cost-effectively integrate the latest generation of analog-digital conversion capability with very high performance processor/carrier boards. This flexible approach reduces overall power consumption, footprint, and cost while increasing ruggedness and reliability.
The DAC-D2500 asserts DEG's leadership position in the high speed, high performance, digital-analog conversion market. This FMC card is based on the Analog Devices AD9739A DAC chip. Based on the VITA 57 specification, the DAC-D2500 enables direct coupling of unparalleled digital-analog conversion capability with the VME/VXS/AMC/VPX/PCI-E carrier board of your choice. DEG engineers have designed this product and associated HDL firmware to work with both Altera and Xilinx FPGAs.