Quad 550Msps, 12-bit ADC FMC
Experts in Digital Signal Processing & Data Acquisition Products Since 1994. Offering Consultative Engineering Services, Rapid Prototyping, and Custom Electronic Design.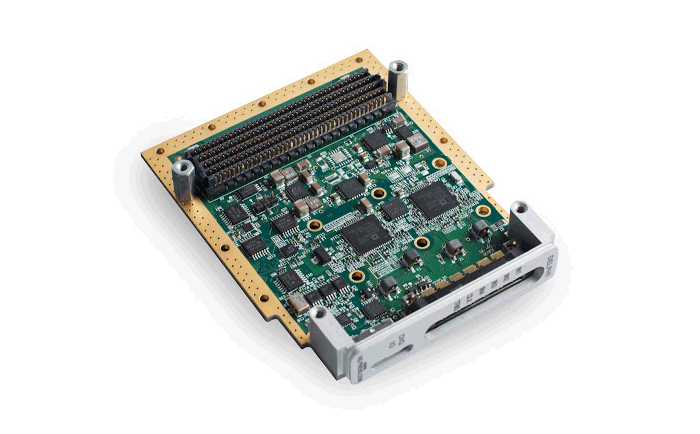 High Density ADC FMC Module
QUAD 40Msps to 550Msps sampling rate at 12-bit
Up to 2.3GHz Input Bandwidth
FMC/VITA 57 form factor
Works with Xilinx and Altera FPGAs
Air & Conduction-Cooled
Direct Coupling of Unparalleled Analog-Digital Conversion Capability
This FPGA Mezzanine Card (FMC) converts four channels of up to 2.0GHz analog input bandwidth at 550Msps and 12-bit resolution. Based on the VITA 57 specification, the ADF-Q55 enables direct coupling of unparalleled analog-digital conversion capability with the VME/VXS/AMC/VPX/PCI-E carrier board of your choice. DEG engineers have designed this product and associated HDL firmware to work with both Altera and Xilinx FPGAs.
Rapidly & Cost-Effectively Build Compact & Rugged Systems
The ADF-Q55 is based on the Texas Instrument ADS5463 Analog-Digital converter. DEG engineers leveraged design work and intellectual property from the highly successful ADC-3595 PMC board to bring the ADF-Q55 to market in record time. By coupling this core architecture with the compact and flexible FMC form factor, DEG has enabled customers to rapidly and cost-effectively build compact & rugged systems with 4-8 channels of high-speed digitization in a single high performance processor/carrier board. This flexible approach reduces overall power consumption, footprint, and cost while increasing ruggedness and reliability.
The ADF-Q55 sets a new benchmark for high speed, high performance analog-digital conversion products. By compressing 4 TI 550 Msps Analog-Digital Converters in the FMC form factor, DEG engineers have created the industry's highest density high speed FMC product in the embedded marketplace.