Experts in Digital Signal Processing & Data Acquisition Products Since 1994. Offering Consultative Engineering Services, Rapid Prototyping, and Custom Electronic Design.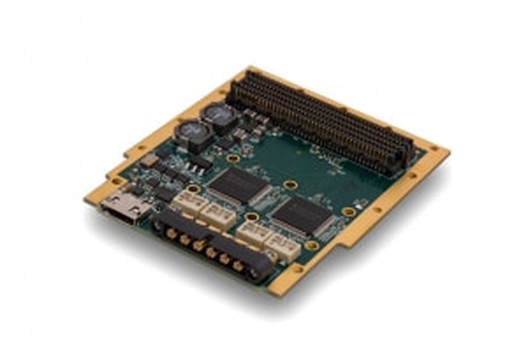 High Density ADC FMC Module
Quad 20Msps to 400Msps sampling rate at 14-bit
Up to 1.4GHz Input Bandwidth
FMC/VITA 57 form factor
Works with Xilinx and Altera FPGAs
Air & Conduction-Cooled
The Highest Density High Speed FMC Product in the Embedded Market
This FPGA Mezzanine Card (FMC) converts four channels of up to 1.4GHz analog input bandwidth at 400Msps and 14-bit resolution. Based on the VITA 57 specification, the ADF-Q40 enables direct coupling of unparalleled analog-digital conversion capability with the VME/VXS/AMC/VPX/PCI-E carrier board of your choice. DEG engineers have designed this product and associated HDL firmware to work with both Altera and Xilinx FPGAs.
Rapidly & Cost-Effectively Build Compact & Rugged Systems
The ADF-Q40 is based on the Texas Instrument ADS5474 Analog-Digital converter. DEG engineers leveraged design work and intellectual property from the highly successful ADC-3495 PMC board to bring the ADF-Q40 to market in record time. By coupling this core architecture with the compact and flexible FMC form factor, DEG has enabled customers to rapidly and cost-effectively build compact & rugged systems with 4-8 channels of high-speed digitization in a single high performance processor/carrier board. This flexible approach reduces overall power consumption, footprint, and cost while increasing ruggedness and reliability.
The ADF-Q40 sets a new benchmark for high speed, high performance analog-digital conversion products. By compressing 4 TI 400Msps Analog-Digital Converters in the FMC form factor, DEG engineers have created the industry's highest density high speed FMC product in the embedded marketplace.